Joshua Tree Cabin Rentals make the Perfect Family Vacation Destination!
If you're looking for somewhere to spend your next vacation, then the Homesteader Rental Cabins at Thunderbird Lodge Retreat are perfect for any person, any size family and every member of the family!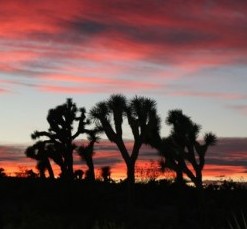 Located in Joshua Tree, California, Thunderbird Lodge Retreat is the only provider of vacation rental cabins in the area surrounding the Covington Flats entrance to the Joshua Tree National Park. Each of these rustic pet friendly cabins are charmingly decorated and sits on its own fenced in property, far enough away from everything that you feel like you're hidden away from the world, but not so far that you feel like you're marooned in the middle of nowhere!
Because every cabin has its own fenced in yard it is a perfect destination for taking the furry four legged members of your family along on your vacations, and special arrangements can be made if you want to bring a horse along for the trip! Fully equipped with modern facilities that include indoor and outdoor heating, each of our Joshua Tree rental cabins are designed to make your stay as relaxing and as tranquil as possible.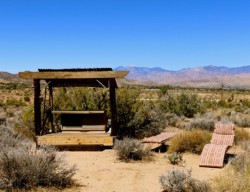 Both indoor and outdoor entertainment areas make relaxing together as a family an enjoyable experience, and suit the ambience of Joshua Tree to perfection. Each cabin is carefully positioned to take the best advantage of and highlight breath taking views, spectacular sunsets and sunrises, and the clearest nighttime skies you'll ever see, making them every nature lovers dream come true!
Just a short distance from the hiking and walking trails of Joshua Tree National Park, these charming cabins reflect the natural splendor that can only be found in desert landscapes. It's the perfect location for a dream wedding, a relaxed birthday party and also offers great scenery for both photographers and cinematographers to capture and preserve for a life time.
There is truly no place like the Thunderbird Lodge Retreat, so if you're looking for cabin rentals in Joshua Tree California, then contact owner Lori Portillo today! She'll help you choose the best cabin to suit your needs and help make sure that your vacation is so amazing, you'll be booking a return visit as soon as you can!
Take a Video Tour of our Property!
Have a Question? Call (760) 408-0768 Now!